Eco-Friendly Christmas tree: ideas and tips for your green decorations
Eco-Friendly Christmas tree: ideas and tips for your green decorations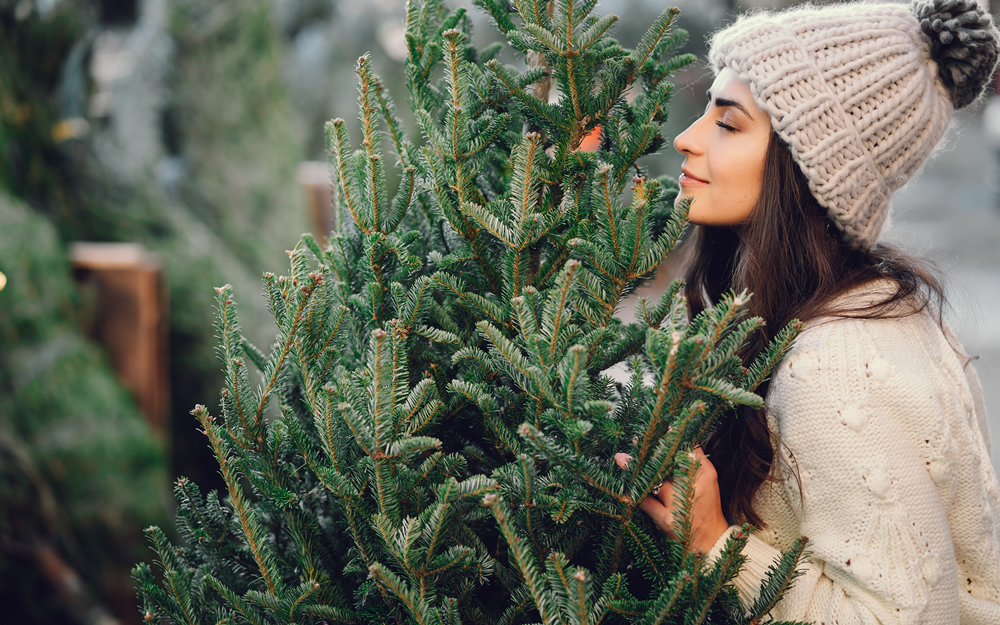 December 25th is approaching and you are probably already thinking about buying a sustainable Christmas tree. Usually, the biggest doubt is: should I buy a real tree or a fake one? And how can we celebrate a waste-free Christmas season?
Sustainable Christmas trees: say no to the fake ones!
Decorating the house with a real fir tree is definitely a green choice, but let's see why.
Every year in Italy many fake Christmas trees are purchased. Unfortunately, this is not a very eco-friendly choice.
Just think of the fact that fake Christmas trees are usually made of polyethylene terephthalate and PVC, two non-biodegradable materials.
A more precise idea of the impact these have can be provided by a research conducted by the Association of Italian Horticulturalists1. Do you know how much oil is needed to produce one single medium-sized tree? About 20 kilos! And that's not all: 23 kg of >CO2 are released into the atmosphere. The picture is completed by the pollution generated by long distance transportation, since artificial trees are very often imported from Asian countries. Finally, it's important to consider that artificial trees require about two centuries to biodegrade.
Therefore, this is definitely an option to avoid. But if you really can't do without a fake tree, we invite you to use it for as long as possible.
Eco-friendly Christmas trees: why you should choose a real tree
Let's immediately dispel a myth: purchasing real trees does not cause deforestation at all, as is commonly thought.
As pointed out by the National Federation of Forest Resources and Wood Crops, Italy has a forest heritage that covers about one third of its territory. Among 590 thousand hectares, there are fir trees whose tops are trimmed, a technique that allows to obtain a sustainable Christmas tree and also protects the fir trees. Furthermore, fir trees destined for the Christmas holidays are also grown in farms (according to an estimate by Coldiretti2, about 13.5 million are sold every year in Italy). If they have roots, real fir trees can be replanted or repotted (in larger pots) after the holidays, and be reused the following years.
But how do you know if the tree you've bought is really sustainable?
First of all, verify the presence of a certificate that, among other things, specifies the name of the producer and the place of origin.
You must also choose fir trees that come from places as close as possible, to limit the pollution caused by transport and to be sure that they are native species suitable for our climate.
Alternatively, it is possible to rent a tree, these are easy to find by doing a simple web search.
Eco friendly Christmas decor ideas for your home
Everyone should be kinder to the planet at Christmas! Decorating the tree with recycled materials can give new life to something we would have thrown away, while also creating an opportunity for some creative family time.
Below are 6 ideas for decorating the Christmas tree with different recycled materials: a zero-waste, sustainable and low-cost approach to the festive season!
Collect leftover paper from family dinners: with a bit of tape or glue, pastry or chocolate wrappers can turn into pretty garlands; even coffee cups, with proper decoration, become Christmas bells or angels to hang on the tree.
Don't throw away clothes: with needle, thread and a little practice, you can create colourful decorations and fabric patchworks. Some stuffed socks can make cute snowmen. Crocheted Christmas decorations are also perfect for turning the tree into a rainbow of colours.
With a few wooden twigs and a bit of string, you can make pendants for the tree or garlands for the door: wood is a warm material, reminiscent of family and the holidays. All it takes is a little craftsmanship to make beautiful wooden Christmas decorations: take an old chopping board and carve the shape of Santa or a snowman.
Some treated foods become original decorations for your Christmas tree. Dehydrated citrus slices, bay leaves, pine cones, cinnamon sticks and biscuits are 100% biodegradable and give a fresh and elegant touch to any fir tree.
Among the many ideas for recycling plastic, Christmas tree decorations are definitely a functional and fun choice. Instead of polluting the environment, chopped and matched plastic bottles can become shiny Christmas trinkets. You can also be creative in recycling disposable caps or straws, making Christmas arrangements and mosaics to display during the holiday season.
Don't throw away metal bottle caps: you can turn them into little snowmen or funny garlands, all you need is a little hot glue and a lot of imagination.
DIY glass Christmas decorations are elegant and very easy to prepare. For example, wash and paint cans, then put in a simple candle: you can create lighting effects to make your Christmas dinners even more magical.
Therefore, choosing a real and certified Christmas tree represents a completely eco-friendly option and, in addition, will also give your home an authentic Christmas atmosphere and smell. Furthermore, if you choose to decorate the fir tree with recycled materials, your Christmas will be completely eco-friendly.
If you'd like to take an extra step for the environment, stop using single use plastic and PET bottles: with the Acea Waidy Wow App you can keep track of the amount of CO2 saved!
1 Source: Association of Italian Horticulturalists
2 Source: Coldiretti